500cc Norton International
This fine example of a 1949 Norton International belongs to Pat from the Sunshine Coast HMCCQ. The photos were taken at the Gympie Rally 2002. Pat was most co-operative in giving us a story so as soon as we had the photos developed we felt that they were worthy of the front cover.
Pat has owned this machine for five years and purchased it from George Hursthorse in Bunderberg. Pat is still trying to track down its entire history so if any readers know more about it then sent your information to Pat or the Editorial Team listed in the front of this journal.
There is evidence that it was purchased new from Hazel and More Motor Cycles in Sydney.
Pat bought the bike as a going concern and restored bits and pieces as deemed necessary. There was a large welt in the petrol tank so he found someone capable of the repair, than had it re- chromed and painted to original specifications. The job was so fine that he followed through with the rest of the paint work.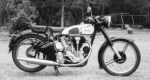 The cam box on an International takes some expertise so Joe Costin was called upon to set this up. The motor is generally stock standard excepting the installation of Manx cams and piston.
There is quite a crackle in the air when this machine passes you and Pats motto is to ride them as they were meant to be ridden. It had no trouble completing the long run at the Gympie Rally.

Go to top