BSA Super Rocket.
by Wardy
This motorcycle was purchased from BJ's, Deshon Street, Woolloongabba, around 1995. Harry Muirhead called one night and advised that he had been into BJ's that day and they had a basket case Road Rocket that I should have a look at.
The next day I was loading the tattered bones of the BSA into my Ute. The condition of the bike was very sad to say the least. The frame forks and wheels were in one piece, as shown in the photo, but the rest had been dismantled many years before.
The intentions were good and I was very keen to get the BSA restored so that I could ride it in rallies etc., so when the project in hand was finished, the BSA took pride of place and was completely dismantled and inspected. The frame and swing arm were straightened by Rob Olsen, generator and magneto were rewound by Les McKiterick, with the generator drive being converted to a toothed belt instead of the original chain. Most of the parts requiring black paint were coated in two pack. This being carried out around 1996.
A divorce then brought the project to an abrupt halt for about five years, before I started to get things BSA moving again, but never with any great enthusiasm. The motor had a rebuild, with rebore, crank grind, camshaft ground and nitrided, new valves and guides and a complete set of bearings through out. The gearbox was also rebuilt to the same level and these were fitted to the frame and then everything stopped again. Next were the forks, with new stanchions, bushes and seals and a pair of shockers for the rear. Another year or so passed before the tank and guards got the panel and paintwork, again with two pack and an original Super Rocket transfer on the tank. The machine was now starting to look like a bike, so the wheels were off to the chromers, laced with stainless steel spokes and finally in 2007 the Beesa was back on two wheels. Some twelve years after commencing the restoration, the 1962 Big Valve Super Rocket, with optional twin carburettor head, is finally completed with a pair of reconditioned chronometric gauges.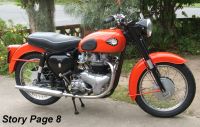 How does it run? I can't say, as it has not been started. I think I will just look at it, that way I will never be disappointed with the performance.

Go to top