650cc twin BSA lightning
The cover bike is a 1972 650cc twin BSA lightning supporting a big bore kit. It is owned by Dennis and Dorothy who have been in its possession for ten years. By the time this journal has reached your letterbox the owners will have just come back from the Hat Head Rally organized by Kempsie's Natureland Classic Motor Cycle Club. Earlier this year they attended the BSA Rally at Gelong. They traveled home on the Great Ocean Road. Of course there presence was noticed at the HMCCQ thirty year rally, Toowoomba Rally and many other associated club rallies. This combination of three elements is capable of chewing up many miles, delivering many smiles and being great diplomats for the Historical Motor Cycle Club of Queensland. They belong to the Ipswich Area and also attend most of the local runs when they are not on a long distance jaunt.

They read about the bike in just bikes over 10 years ago whilst they were visiting Coffs Harbour and detoured to Lismore on their way home and were fixated by it so it came home with them.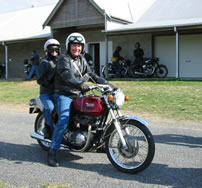 To the owners its like an American express card, they don't leave home without it. It was not always good times though. A little disaster with a wrecked big end bearing occurred along the way. This was a result of the frame being powder coated. How can this process be linked to ruining a big end? It has its oil tank is part of the frame and grit ended in its oil compartment. A piece of grit blocked the oilway to the primary side big end. a rebore was also required, hence the big bore and extra power they now enjoy. They mention this so future restorers of such magnificent machinery don't fall into the same trap.

Go to top