1948 VH replica 500 single
[cover story in BSMCC Kickback Dec 06 - Jan 07]
by Peter Ariel
My motorcycle is a 1948 VH replica; I now call it a replica as it was built 35 years ago with a 1948 Side Valve motor and matching tinware of that year. It has been on many British Single Club days and also put into the Phil Irving Concours when possible. It never wins a prize, but sure does drum up an audience. At one showing I noticed a lady feeling every feature of the bike and as I proceeded to march down there and tell her off, I was suddenly stopped in my tracks, she was blinded in later life but used to ride on the back of one of these. So now I can say it was shown in Braille. Funny that I had a lot to say before I reached her and when I knew the story I was speechless, in fact both eyes were welling with tears as she drew in all the surfaces, oil and all.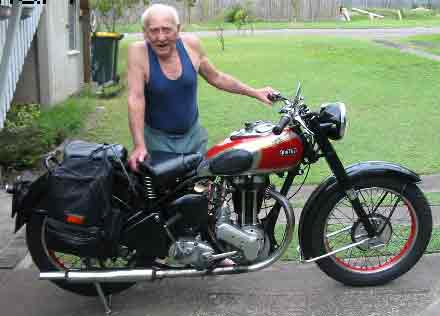 I do say the BSMCC is the best club when you have a bitsa; it won a best British Single trophy once.
First restored by Allan Dolley (pictured with the bike) and Peter Ariel in 1974 as a side valve 600. Prior to restoration this bike was in flat track gear although quite a bit heavy for the dirt tracks. Mudguards and a lot of other parts were obtained to finish this bike as 1948 model. Of course we forgot to date the frame and later found it was a 1951 frame but almost the same as a 1948 frame. After completion and showing it in a country fair we then discovered that it was in a 1951 frame. The experts all appeared at this small concours' and we wished we knew them before hand. Allan Dolley helped me through the initial build and has since passed on. For that reason I am reluctant to alter the bike into the 2 different years it is supposed to be, although I have been gathering parts for both.
This bitsa has done a huge amount of mileage in its 30 years of being on the road and has had 2 gearboxes and 3 motors in its life in my command. This bike also has survived two divorce settlements, at great expense it remained in my possession. It did however lose its sidecar in the last debacle; it was the easiest way to cut it down the middle. The motor and gearbox have since been replaced by more reliable items. This motor has seen the racetrack hence its through bolted head to sump. The 350 gearbox has closer ratios than the 500 gearbox and has a little smoother changes. This is also the bike in the Numinbah Valley tour on this website. You may get to see it as a movie on the website soon enough.
Editor's note. In a later interview Peter informed me that he purchased the Ariel when he was fourteen years old, from money saved whilst delivering newspapers. It took him eight months of saving, plus another twenty dollars he borrowed to obtain the bike at a price of sixty dollars.

Go to top